1) De eerste, in de Halloween-aflevering van seizoen 1: "Kind, Sober an Fully Dressed"
2) "I'm Sorry About Tonight!"
3) "It's Not Your Fault, I Was Terrible"
4) "Not Even Going To Touch That"
5) "I'm Horrible At This"
6) "I'm with Someone, Nothing's Going to Happen"
7) "Better Not Bite Me in the Ass"
8) "Uh-oh I Hope it Doesn't Get Too Sexual"
9) "But Seriously, What Is Taking So Long?"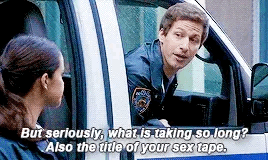 10) "Eek, Blast Of Cold Air Coming Out Of That Box"
11) "Why Doesn't Your Mouth Work"
12) "I Hope it Wasn't a Mistake"
13) "One More 'But' And You're Contempt."
14) "I Can't Find Anything And I Don't Know What To Do"
15) "I Just Got It Out of the Vent to Rub It In Your Faces"
16) "I'm So Confused, I Don't Know What's Happening Right Now"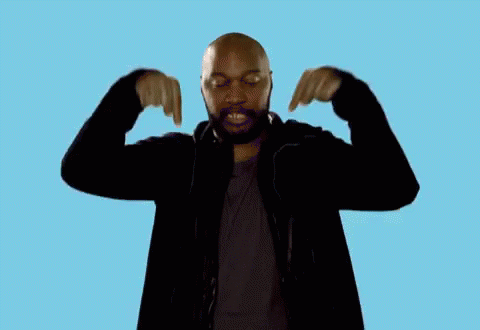 17) "Oh My God, I'm Shaking, I'm Definitely Gonna Cry"
18) "My Mother Has A Fantastic Basement"
19) "I came alone!"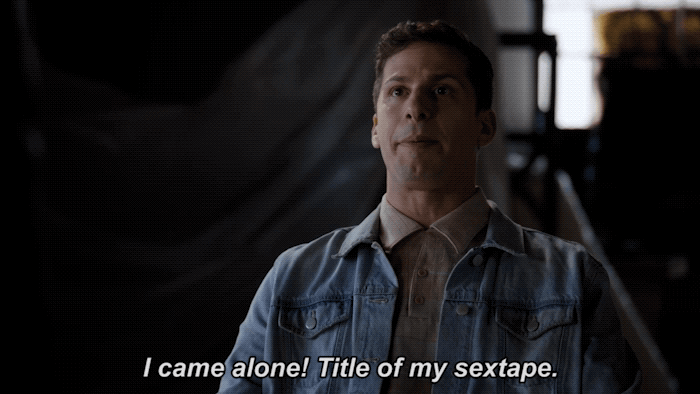 20) "That's Not How Holes Work"
21) "Jake And Amy Are Getting Married Tonight"
22) "But Why Don't We Take This Map And This Sextant And Chart A Course To The Restaurant?"
23) "Sorry, That Came Out Weird"
24) "It's Hard For Some People"
25) "I Came As Fast As I Could"
26) "There's Not Even Any Soft Parts In The Middle We Can Pull Out"
27) "They Just Sort Of Grabbed Whatever And Yanked"
28) "Show Me The Tip"
29) "She's coming. Hide"
30) "This Decision Has Been Quite Hard Upon Me"
31) "There's A Demon In Our Genes"
32) "I'm Sorry, It Just Slipped Out!"